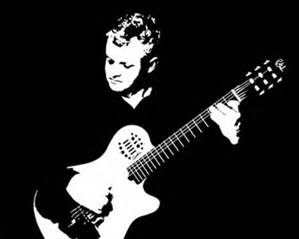 Keith Calmes earned degrees in Classical Guitar Performance from California State University Northridge, The Juilliard School, and the University of Southern California. His performance credits include a Carnegie Hall recital debut, concerti with the Monmouth Symphony, a performance with Maestro Carlos Barbosa-Lima and a decade of concerts and recordings with flautist Marjorie Koharski. Many composers have written for Keith, including Roger Aldridge, Will Ayton, Timothy Broege, Frank Campo, Ruben Delgado, Jurg Kindle, Chiel Meijering, Maximo Diego Pujol, Stepan Rak, Kevin Siegfried, Jean-Maurice Mourat and Jim Scully. Keith has several solo recordings (All We Know is Now; Still Life and Simple Dreams) duet recordings with Chiel Meijering, (The Girls Collection) and (Classic Surf Guitar) available at CD Baby and iTunes.
Although usually considered a classical guitarist, Keith's musical diversity can be attested to: He has jammed with Jazz master Jim Hall and opened for artists such as Surf legend Dick Dale and Flamenco virtuoso Juan Serrano. A deep interest in Indian rhythms has led to studies and performances with percussion virtuoso Selvaganesh Vinayakram (Remember Shakti, Arka, etc.).  As a guitarist in the US Army band program, Keith toured as part of Jazz and Rock bands. He even grew up playing in bands during the formative years of Punk Rock in Central California.
Keith teaches guitar at Wall High School in New Jersey and was presented the Outstanding Teacher Award from The College of New Jersey. He has also taught at USC, Drury University, Monmouth University, Kean University, Brooklyn College, Harford Community College and Ocean County College. Mel Bay Publications has published several of his books, including Guitar Music of the 16th Century, Sacred Solos for Classical Guitar and The Eight Masterpieces of Alonso Mudarra.. Keith endorses Godin Guitars and strings and K & K acoustic pickups. He also performs on a  guitar built for him by Kristopher Barnett. His interests include the 21-string Classical harp guitar.
"Varied and innovative…a real artist, his primary concern is the music, first and foremost." The Aquarian
"Diverse performing skills…extremely well played…very listenable"- Classical Guitar Magazine