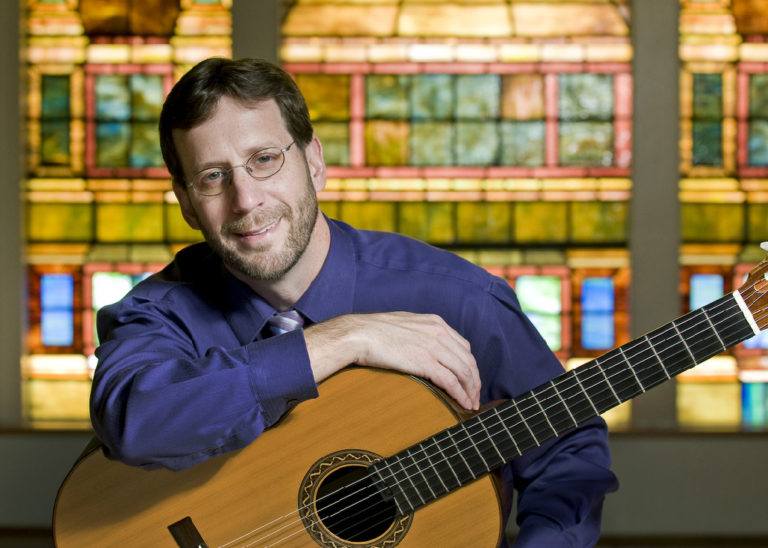 John presently teaches guitar at Moravian College where he teaches private lessons (classical, flamenco, lute, fingerstyle), guitar ensemble, flute & guitar ensemble, guitar literature & guitar pedagogy. Additionally, Mr. Arnold teaches the guitar program at the Lehigh Valley Charter High School for the Arts in Bethlehem, PA. Prior to these positions, he taught guitar at Bennington College in Vermont. As a soloist and chamber musician, he has performed with numerous ensembles including the Pennsylvania Sinfonia Orchestra, Allentown Symphony Orchestra, Sage City Symphony, Satori, Two Part Invention, Gabriel Chamber Ensemble, Pennsylvania Shakespeare Festival, Kennedy Center, Musikfest, Godfrey Daniels, Wall Guitar Festival, Bach-Handel Festival, Philadelphia Classical Guitar Series, Festival of the Human Voice, HCC Guitar Mini-Fest, Hartt International Guitar Festival, and on National Public Radio & Television. Recently, Mr. Arnold was featured on NPR's "Behind the Guitar" hosted by Craig Thatcher and sponsored by C.F. Martin & Company.
In 2002, John was awarded the T. Edgar Shields Prize for distinguished studio instruction at Moravian College where his students have won many competitions, including the MC Concerto Competition, Philadelphia Classical Guitar Society Competition, Friends of Music Competition, and the prestigious GFA Competition (Youth Division). From 2000-2012, he founded and directed the Bethlehem Guitar Festival, bringing to the Lehigh Valley some of the most outstanding guitarists the world has to offer. In 2011, Shenandoah Conservatory presented John with the Alumnus of Excellence Award, recognizing alumni for doing outstanding work in their field. In addition to teaching and performing, John has been a judge for many guitar competitions including the Schadt String Competition, Philadelphia Classical Guitar Competition, John & Susie Beatty Competition, and the Godfrey Daniels Competition. Recent recording projects include the works of William Foden and his contemporaries and the guitar compositions of Glenn Caluda.
Mr. Arnold holds an Artist Diploma degree from the Hartt School, University of Hartford, where he studied with Richard Provost; Bachelors and Masters Degrees in Guitar Performance and Guitar Pedagogy from Shenandoah Conservatory of Shenandoah University, where his teacher was Glenn Caluda.