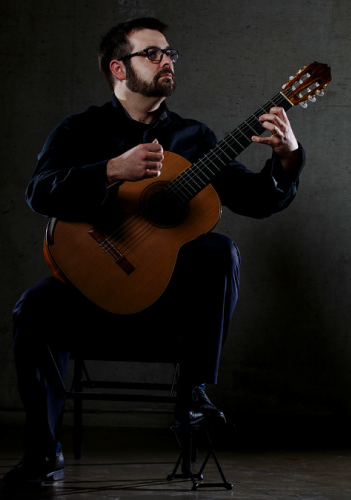 Praised as having "enormous facility on the guitar, a fluent technique, who plays with total confidence and professional expertise, panache and artful spontaneity", Australian classical guitarist and Augustine Artist Scott Borg performs extensively as a soloist and chamber musician, and is known for his colorful, refined, and daring performances. With a string of international scholarships and prizes under his belt, including the Australian Music Examinations Board highest honor, the Fellowship in Music Australia (F.Mus.A), his previous engagements have included performances at the Festival Internacional de Guitarra Mérida (Mexico), ICPNA Guitar Festival (Peru), the Shell Darwin International Festival (Australia), New York's Apollo Theatre and Alice Tully Hall in the Lincoln Center, the Kennedy Center, Ateneo de Madrid, and performed for the Westminster Kennel Club. In 2006 he was invited to perform for President Hu Jintao, Peoples Republic of China, at his internationally televised address to the United States of America. As a winner of Artists International, NY Concert Review described his Carnegie Hall debut as "well balanced, gracefully presented, and expertly played… each note was purposeful and focused, as was each rest." His performances have been broadcasted on Australian and American radio stations including ABC Classic FM and NPR. He was also featured on MTV2.
Mr Borg began his guitar studies at the age of seven with his father, Victor, and was soon after accepted into the young artists program at the Sydney Conservatorium of Music. He received his Doctorate of Musical Arts (New England Conservatory), Artist Diploma (Yale University), Masters of Music (The Juilliard School) and a Bachelor of Creative Arts with First Class Honours (University of Wollongong). His previous mentors have included Eliot Fisk, Sharon Isbin, Benjamin Verdery, Gregory Pikler, and Christopher Keane.
As a conductor, he is the director of the Baltimore Classical Guitar Society Orchestra, and was previously director of the Boston Guitar Orchestra (2009-2016) and have performed in diverse venues ranging from the Ateneo de Madrid and Boston's Jordan Hall, to the Newburyport Lantern Festival and the 2014 VietAID. He has conducted and given guest lectures at the Guitar Foundation of America Convention and Competition, New Hampshire All State, Peabody Conservatory's 'Fretfest', Mid-Atlantic Guitar Ensembles Festival, and the New England Guitar Ensembles Festival.
His debut CD, 'On an Overgrown Path' is available on the Odradek Label. Mr Borg is currently on faculty at Montgomery College in Rockville, Maryland, and is Artistic Director of the Mid-Maryland Guitar Festival. Mr Borg is a Augustine Artist and uses Augustine Regal strings. He plays a 2006 Smallman & Sons, and  "Aranda", a guitar by Stephan Connor.