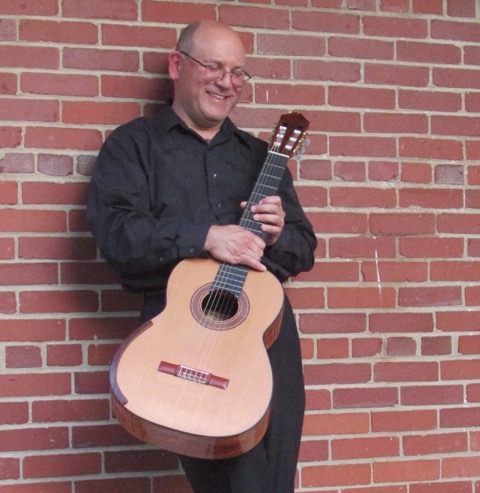 Kevin Vigil holds performance degrees from Shenandoah University (DMA), Yale University (MM) and the University of Memphis (BM). His interest in composition was sparked by a seminar class called, "Composition for Performers", that was taught by Martin Bresnick at the Yale School of Music (1988).
Performance highlights include performances at Carnegie Hall, Avery Fisher Hall, The Kennedy Center for the Performing Arts and the Department of Agriculture. He has performed as a soloist, with choirs, orchestras, chamber groups and as a member of Duo Con Brio with flutist Barbara Vigil.
"Dr. V" is a strong advocate for guitar education and has presented lectures for the Guitar Foundation of America, Yale School of Music, James Madison University and others. His articles have been published in journals which include The GFA Soundboard, Gendai Guitar, European Guitar Teachers Association Journal and online. He was selected as the 2014 Shenandoah University Teacher of the Year for Loudoun County Public Schools and was presented with a Winston Churchill Commemorative Crown for his work in guitar education by Winston Churchill Scholar Helen Sanderson. Dr. Vigil has been teaching guitar and music theory at Heritage High School since 2005.
"His competence as a technician and ease of playing take a backseat to his compositional brilliance as a wordless storyteller. Like all the best music, you need not be a musician to hang on every word (ooops!) note.
-John Stix, Guitar for The Practicing Musician (July 1993)