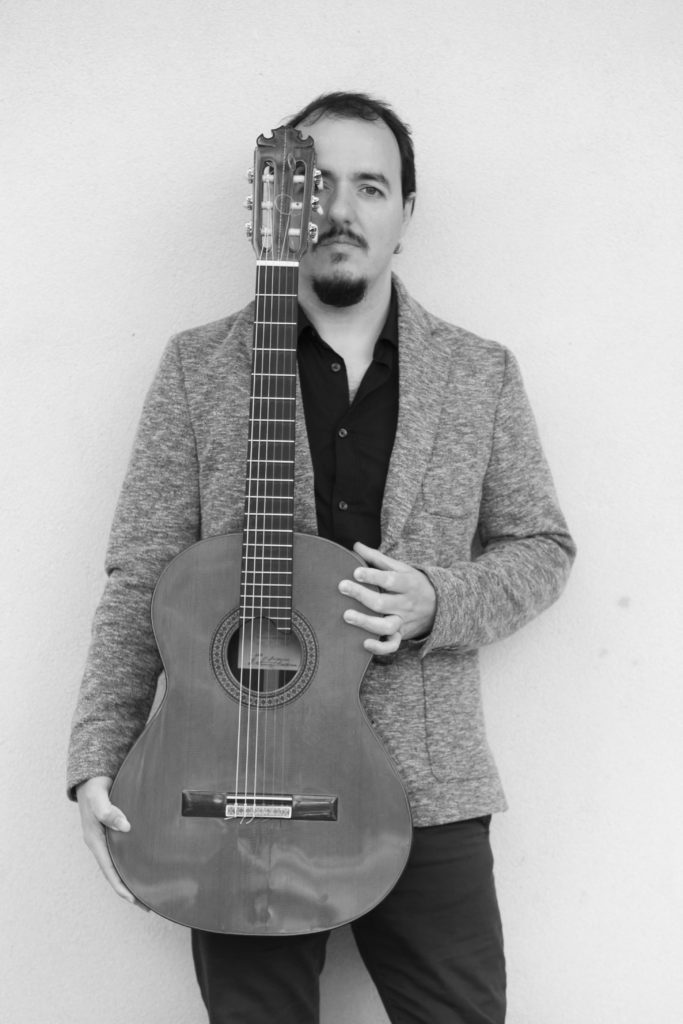 Guido began his musical studies at the University of Costa Rica's School of Music where he graduated with honors in 2001 under the guidance of Mario Solera. In 2004, he began his Master's at Indiana University Jacobs School of Music with the distinguished professor and internationally acclaimed guitarist Ernesto Bitetti.  Guido continued on to the prestigious Doctoral Program at the Jacobs School of Music, graduating in May 2012 as Doctor of Music in Guitar with minors in Music Theory and Composition where he studied with composers Luis Diego Herra, Sven-David Sandstrom, Per Martensson, Gabriela Ortiz, and Don Freund.
In 1997, 1998 and 1999, he earned the "Student of Honor" scholarship at the University of Costa Rica and traveled to France and Spain to attend the Stage de Guitares D'Alsace and the Festival Internacional de Guitarra de Córdoba.
In 2000, he was a finalist at the Concurso y Festival Internacional de Guitarra de La Habana, Cuba–one of the most prestigious guitar competitions in the world. In 2003, he won First Prize at the National Guitar Competition in San José, Costa Rica.
Guido obtained the Jury's Mention of Honor at the 2001 First Composition Competition for Guitar for his piece, Rondó de Vidrio (available on Trazos). Additionally, he won first prize the following year for his guitar orchestra piece, Arenal.
In 2008 he won the prize for Best Performance of the Compulsory Work at the Joann Falletta International Guitar Concerto Competition.
​From 1995 to 2003, Guido was the first guitar of the Guitar Orchestra of Costa Rica, with which he has recorded five CDs and toured around the World.
He is also a co-owner of the "Escuela Superior de Guitarra" in Costa Rica for which he has worked as both teacher and director.
He has participated in masterclasses with numerous figures including Leo Brouwer, Costas Cotsiolis, Pepe Romero, Eduardo Fernández, Nuccio D'Angelo, Javier Hinojosa, Jorge Luis Zamora, Jorge Cardoso, Mario Ulloa, Juan Falú, Francisco Ortiz, Eduardo Martín, Baltazar Benítez and Jesús Ortega.
In 2012, Guido directed and produced a CD with the Grammy-winner singer Sylvia McNair in which he is also featured as performer and arranger.
From 2009-2014, Guido was a lecturer at the Jacobs School of Music at Indiana University where he taught courses in Latin American music history and techniques for arranging in Latin styles. Guido was also the Resident Arranger and Musical Director of the Latin American Popular Music Ensemble. With this ensemble, he recently recorded Paisaje Urbano, a CD featuring his ability as a performer and arranger as well as director and producer.
In 2014 and 2015 he served as the Director of Guitar Studies at Franklin College in Indiana, where he also taught World Music.
In 2015, he started teaching classical guitar lessons and online music appreciation classes at Parkland College. And in that same year he created his own private classical and fingerstyle guitar studio at The Upper Bout.
Guido has been invited to participate in numerous festivals around the world including the Boardwalk Music Festival in Virginia, the Festival de Guitares D'Alsace in France, the Festival Internacional de Guitarra in San José, Costa Rica, the Festival de Guitarra de Guanacaste in Liberia, Costa Rica, Guitar Days in Buffalo, NY, the Festival Permanente de Música de Suchitoto in El Salvador, the Indiana Guitar Festival, and the Mid-America Guitar Ensemble Festival. He has also performed and given masterclasses and lecture-recitals at several universities including Marshall University, Universidad de Costa Rica, Tulane University, University of Illinois, Indiana University, University of Indianapolis and Indiana University Purdue in Indianapolis, IN.
Guido is currently the guitar lecturer at the University of Illinois School of Music. He continues to compose, as well as perform both locally and internationally.