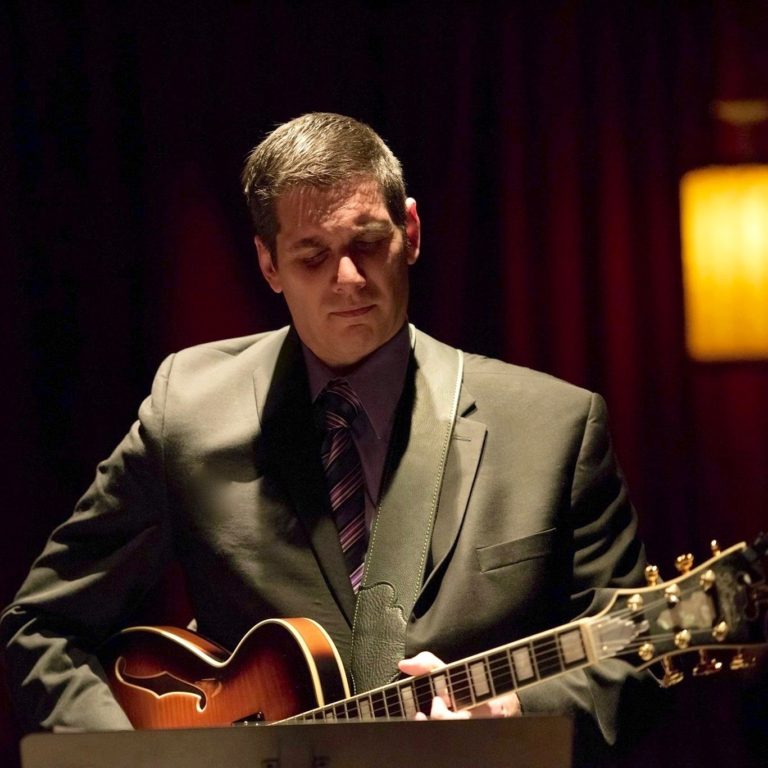 B.M. in Jazz Performance – William Paterson College
M.M. in Jazz Studies – University of North Texas
Ed.D. in Music Education – Columbia University
Mark Tonelli has enjoyed a diverse career performing with artists such as Clay Aiken, Jon Faddis, Rita Moreno, Carol Channing, Lynn Seaton, Denis DeBlasio, Greg Bissonette, Ed Soph, Andrea McArdle, Al Martino, Bobby Rydell, The Coasters, and The Platters. He has been seen on FOX News and is featured in the Emmy-nominated PBS musical special Marina At West Point. He has had residencies in three major music hubs— New York City, Dallas, and Kansas City— performing at renowned clubs, including NYC's 55 Bar, Dallas's Sambuca, and Kansas City's Green Lady Lounge. His group has released three critically-acclaimed recordings on the MTonal Music label. In addition, Mark has performed in the orchestras of forty musicals, including regional productions of RENT and Evita and a touring production of Les Miserables.
For ten years, Mark was the guitarist for the West Point Band's Jazz Knights, touring and performing in some of the nation's top venues, including Jazz Standard, Blues Alley, Jazz Showcase, Kennedy Center, Jazz Kitchen, Avery Fisher Hall, Count Basie Theatre, and The Rock 'n' Roll Hall of Fame. With the Jazz Knights, Mark performed with a who's who of jazz legends: Benny Golson, Billy Cobham, Bobby Watson, Randy Brecker, Steve Turre, Rufus Reid, Bob Mintzer, John Riley, Claudio Roditi, Adam Nussbaum, as well as the Boston Pops and the New York Philharmonic Brass Quintet. At West Point, he entertained many dignitaries and public figures, including Colin Powell, Sandra Day O'Connor, and Tom Brokaw.Mark's original music has been featured on National Public Radio's (NPR) All Things Considered and he has won composition awards from Billboard Magazine. His jazz ensemble music is published by UNC Jazz Press and FJH Music. His books, Everybody's Jazz Guitar Method and Way To Play: Jazz Guitar Riffs And Chords, are published by FJH Music. He has written instructional articles for Guitar Player, Downbeat, The Jazz Education Journal, JazzEd, Jazz Improv, Just Jazz Guitar, and The Instrumentalist. He has made presentations on entrepreneurship and interdisciplinary learning at major music conferences, including the Jazz Education Network and College Music Society. For three years he directed the West Point Jazz Festival and has given performance clinics at The National Jazz Workshop, NY State Band Directors Association Conference, and at colleges and universities across the country. His blog, "A Life In Music," offers entrepreneurial strategies for musicians. www.mtonalmusic.com