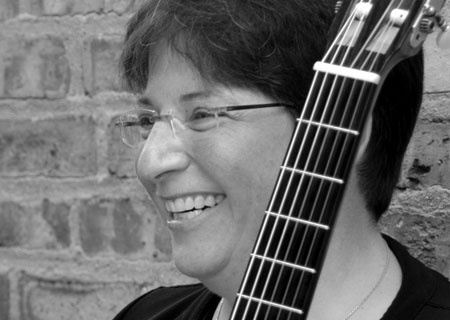 Named Guitarist of the year by Classical Guitar Alive, an internationally-broadcast radio program, Julie Goldberg is a dynamic performer whose concerts win critical acclaim throughout the U.S. She is the first guitarist to receive a Doctorate in Music Performance from Northwestern University and holds degrees from the Chicago Musical College of Roosevelt University and College-Conservatory of Music at the University of Cincinnati. Dedicated to the exploration of music from this century, Julie has premiered many new works for solo guitar and guitar ensemble. Composers Thomas Flippin, Martha Horst, and Tiffany Sevilla have written and dedicated new compositions to Julie Goldberg.
A native of Chicago, Illinois, Julie began studying classical guitar at the age of 15, quickly winning a scholarship to attend the prestigious National Music Camp at Interlochen, Michigan. Before graduating with a Master of Music from Cincinnati, she won both the WGUC Fine Arts Radio Competition and the Three Arts Award for Music Performance. Julie has studied guitar under Claire Callahan, Robert Guthrie, Sonia Michelson, Pamela Kimmel and Ann Waller. She has performed in the master classes of Oscar Ghiglia, Manuel Barrueco, Pepe Romero, David Russell and Sharon Isbin, among others.
An active and versatile recitalist, Julie has performed in solo and ensemble concerts throughout the United States including concerts in New York, Chicago, Cincinnati, St. Louis, Michigan and Washington, D.C. She has been featured on the internationally known Dame Myra Hess Concert Series in Chicago and has been nominated to the Illinois and Heartland Council Touring Rosters. She performs regularly with the Avanti Guitar Trio. Dr. Goldberg is currently on the faculty of North Park University, and VanderCook College of Music in Chicago. She has the privilege of working with talented and dedicated students who have won the Society of American Musicians Competition, Evanston Music Club Competition, and Northpark University Performance Award. They have received high praise, scholarships, and admittance into top college and conservatory guitar programs across the United States.
A sought-after clinician, Julie has been a guest artist at the Interlochen Adult Guitar Workshop, University of Cincinnati Summer Guitar Workshop, Wisconsin Center of Music Education, Illinois Music Education Association, Mid-America Guitar Ensemble Festival and the Michigan Music Conference. Overseas, she taught master classes at the Vietnam National Academy of Music, Hanoi and the Ho Chi Minh City Conservatory of Music. Her newly published instructional book, 100 Classical Guitar Lessons, is available through Hal Leonard Publications. Julie believes music can change a person, help a society and improve the quality of life. She is founder and director of the Chicago Community Classical Guitar Ensemble, an outreach organization that presents concerts in community centers, nursing homes, and senior centers. She directs the New Chicago Young Guitarists Program, which provides free lessons to underserved children and is a founding and performing musician in the Healing Arts, a live Music Program at Edward Hospital which brings music to hospital patients and their family members.