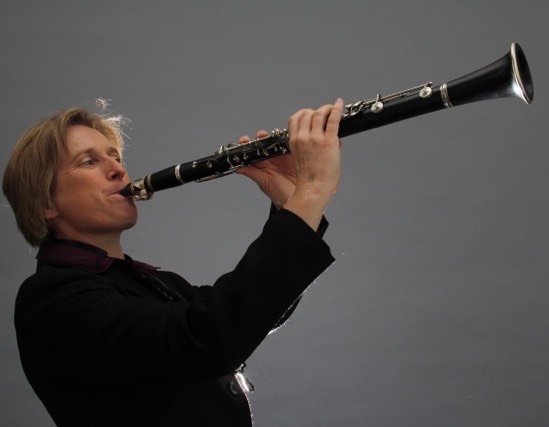 Multi-instrumentalist Anita Thomas delights audiences with her energy, exceptional skill and sincerity. Equally adept at playing clarinet, saxophone and acoustic bass, Anita can be heard performing in jazz as well as classical ensembles. From New Orleans and Dixieland to bebop and contemporary styles, Anita's accomplishments and experience as a jazz musician are considerable, and her contributions as an arranger, composer, teacher and classical chamber musician are additionally substantive.
Anita was born in the tiny town of Ceduna, Australia but grew up in Sydney, surrounded by many types of music. At the age of ten, she was already studying guitar, flute and clarinet as well as singing in choirs and playing in ensembles. Anita attended a special arts high school affiliated with the Sydney Conservatorium of Music, where she focused on playing classical piano and clarinet. After hearing a live jazz performance at a music store, Anita was inspired to shift her musical focus. She taught herself to play the alto saxophone, attended many music camps and formed a jazz quartet with her bass-playing sister. The family ensemble performed on television and radio, and gave concerts around Sydney. Anita soon earned an Associate Diploma of Jazz Studies in arranging from the Sydney Conservatorium of Musicshe and her early career included teaching instrumental lessons, playing in bands, performing in pit orchestras for musical theater and backing local and international acts.
Anita toured Australia with the virtuosic, multi-instrumentalist James Morrison and was the featured clarinet soloist in John Morrison's Swing City Big Band. She played in Europe and toured Thailand as lead alto saxophonist with the Mell-o-tones. From 1994 to 2001, the Anita Thomas Quartet/Quintet played at festivals and concerts throughout Australia and made two full-lenth recordings. In addition to performing, Anita was the co-host of a weekly jazz radio program in Sydney for six years and taught for the Pan Pacific Music Camps, where she had once been a student.
In 2001, after enjoying a highly successful musical career touring Australia and parts of Southeast Asia, Anita moved to the Los Angeles area and quickly became an active performing and recording artist on the West Coast. She also began studying with jazz masters Jeff Clayton (saxophone) and Eugene "the Senator" J Wright (bass).
Anita has worked with many diverse artists, performed in celebrated jazz festivals and made recordings with Australian and American jazz, pop, rock, blues and gospel artists. Highlights include performances at the Sydney Opera House and the Kennedy Center Millenium Stage. She was featured playing didjeridoo on the Grammy-nominated composition by Tim Davies, "Counting To Infinity," and has recorded for soundtracks and with the famed children's entertainment group, The Wiggles.
In 2004 and 2005, Anita was the reed instructor at the AFDJS Adult Jazz Camp in San Diego and, in 2005, she joined the staff of the Mammoth Lakes Jazz Jubilee Jazz Camp and the Sacramento Traditional Jazz Society Jazz Camp. Work for the jazz camps has been especially meaningful for Anita because her early education and deep-rooted love for jazz was cultivated through similar camps in Sydney.
Since 2008, Anita has resided in the greater Baltimore/Washington DC area where she has performed with the Brooks Tegler Big Band, Shannon Gunn and the Bullettes, and the Blue Crescent Syncopators. In 2014, she released her third CD, "Dominos." Featuring original compositions, the album has been described as "hard swinging, quirky and fun…jazz from the heart."